Consultants On Workers Compensation Premiums, Audits, Classification Codes, Experience Modifiers
Advanced Insurance Management® helps employers reduce their Workers Compensation insurance premiums, audits, classifications, and experience modifiers, double checking technical issues that directly affect the premium charges made by insurance companies.
We find and recover overcharges in past & current Workers Compensation insurance premiums paid by employers.
We review current policy charges and also past audited premium charges, to find and correct any errors that have caused premium overcharges.
We also assist employers successfully dispute Workers Compensation insurance charges made by their insurance company.
In short, we lower Workers Comp insurance costs for employers by finding and correcting underwriting and auditing errors in Workers Comp premium calculations and audits.


We don't sell insurance
Advanced Insurance Management LLC is not an insurance agency or brokerage. We're not looking to compete with or replace your current insurance agent. That means we can assist you, as consultants, without making any change in who you buy your Workers Comp insurance from.
And an important distinction: we are not associated, in any way, shape, or form, with Advanced Insurance Management LLC of Columbus, Ohio. This was apparently an Ohio insurance agency that lost its insurance license, and thus garnered an "F" rating from the Ohio Better Business Bureau. Our company, Advanced Insurance Management LLC based in Riverside, Illinois, has an "A+" rating from the Chicago/Northern Illinois Better Business Bureau.

How we do it
The Advanced Insurance Management® review double-checks the classifications, rates, experience modification factors, payroll audits, and other rating factors that insurance companies use to calculate your Workers' Compensation insurance premiums.
We identify and correct technical errors that affect Workers Compensation insurance premiums on current policies and past premium audits.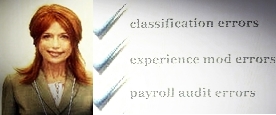 Advanced Insurance Management LLC provides independent professional assistance to businesses on proper Workers' Compensation insurance premiums. Our consultants have years of experience and specialized training. We're familiar and knowledgeable with the differing rules and regulations in different states that govern how Workers Compensation insurance premiums are properly calculated.
We specialize in finding and correcting technical mistakes that have been overlooked by insurance company auditors and brokers. We work with insurers and rating bureaus to correct mistakes in classifications, payroll audits, experience modification factors, and other technical rating elements that directly impact an employer's Workers Comp insurance premium charges.

Premium Auditors Who Work For The Policyholder
The premium auditor sent by your insurance company is paid by your insurance company.

Now, in our experience, these people are dedicated and ethical professionals. But their training and management tend to be understandably focused on keeping their customers happy. Their customers are insurance companies. So their focus tends to be on catching instances where undercharges may be happening, and not so much on figuring out how things may have gone wrong in ways that increase premiums.
We serve as independent premium auditors for the employer, identifying and correcting errors made by insurance carriers and rating bureaus that increase Workers' Compensation insurance premiums.
Such errors and overcharges are far more common than many in the insurance industry like to admit. The complexities of rules governing proper classification, experience modification factors, payroll audits, and varying state regulations and statutes mean that many employers are overcharged without ever knowing it.

Who Has AIM Helped?

Manufacturers. Contractors. Transportation companies. Staffing companies. Hospitals.
An NFL team. Social Service Agencies. And even a company providing technicians at the National Synchrotron Light Source at Brookhaven National Laboratory.
In other words, just about every kind of employer you can think of, and some you might not have thought of.
AIM has helped these and more with their Workers Compensation cost and coverage issues.
We've helped employers of all types and all sizes – from very small contractors and machine shops to Fortune 500 corporations. And we're experienced with the Workers' Compensation rules and regulations of every state that allows private insurance for Workers' Comp. So no matter your company's size, or where you're located, AIM may help you to reduce the cost of Workers' Compensation insurance now and in the future.

Consultants on Workers Comp Classification Codes, Experience Modifiers, Payroll Audits, & More
For more than 25 years AIM has been helping employers with Workers Compensation premiums, making Advanced Insurance Management one of the oldest and most experienced firms in the field of premium recovery.